The leading 25 subscription streaming apps were downloaded 72.4 million times during Q3 2021. 2021 also marks the strongest year for entertainment apps with 216 million downloads – a 29% increase year on year.
Table of Contents
Video and live streaming apps
Data from Apptopia shows that Netflix, Disney+, and Amazon Prime Video were among the top 10 most downloaded streaming video apps.
Disney+, Tencent Video, and IQIYI were the highest-grossing streaming video apps worldwide. In the US, Disney+, HBO Max, and Hulu ranked top, while in Europe Disney+, Netflix and Amazon Prime Video led the top charts for highest-grossing streaming apps.
Disney+ has turned out to be a hit among US streaming apps with $700 million in US IAP revenues driven by many major releases.
The leading ad-supported video apps were downloaded almost 78 million times in 2021, an increase of 45% from last year. Ad-supported video apps have seen more investment in recent years.
The leading players in this space are Fox, Viacom, and Comcast which own Tubi, Pluto TV, and Peacock TV, respectively. Combined they make up 74% of the market.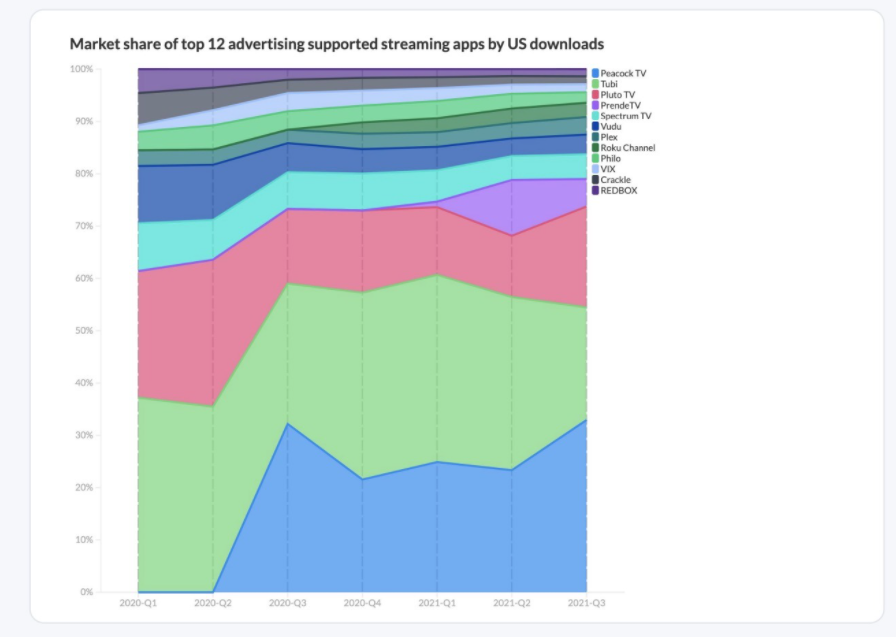 Meanwhile, the leading 15 sports streaming apps were downloaded 12.2 million times in Q3 2021 with ESPN, NBA, and CBS Sports leading the charts for monthly active users in the US. But the fastest-growing sports streaming apps were TUDN, Tennis Channel, DAZN, CBS Sports, and MLB.
Apptopia also deemed TV network streaming apps to be a shrinking market with consumers swapping to cable or live TV streaming.
Live streaming apps like Hulu, Pluto and YouTube TV saw some significant growth in Q3 2021.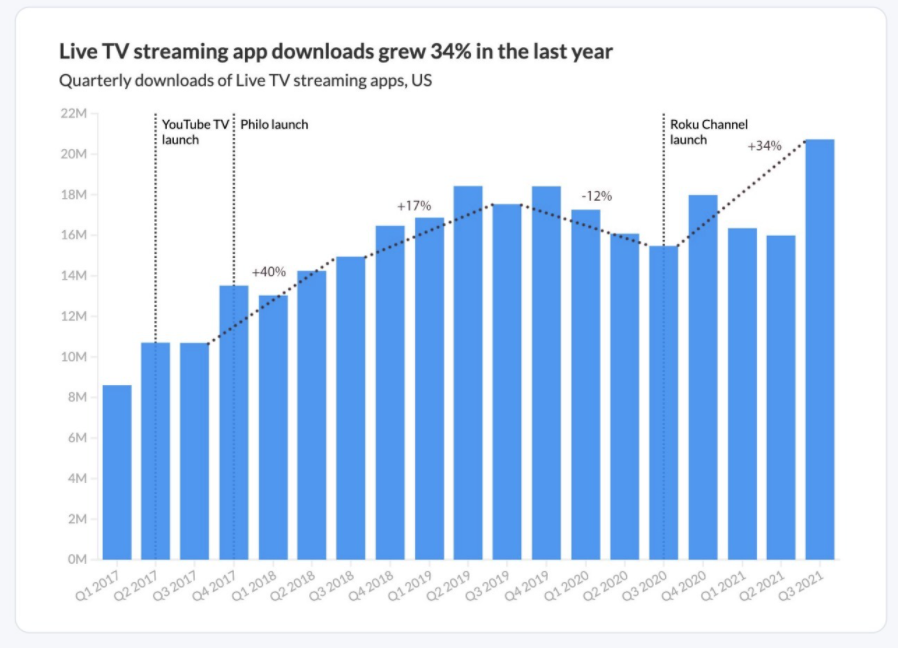 Hulu has a 37% market share of downloads. But FuboTV is closing the gap to both YouTube and Hulu.